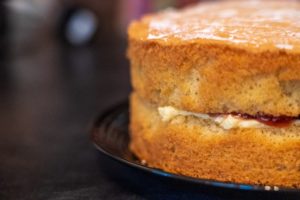 Baking for Vegans – five easy recipes
January, or Veganuary, is the perfect time to explore some of the amazing vegan baking recipes that are popping up all over the place recently. Because cakes and bakes should be accessible to everyone, however they choose to eat.
That's why I've done my research and pulled together five mouth-watering recipes for sweet treats which are perfect for everyone to enjoy.
Peanut butter cookie bars
If you're a fan of peanut butter, this recipe is perfect for you. Decadent and delicious, excess slices can be frozen so it's an ideal make to have in for unexpected visitors.
The recipe uses maca powder as an option. This is available in the UK but can be left out if you're struggling to find it.
I love this one because it's such a simple recipe. There's no actual baking required so it's really easy and quick to make. Give it a go and let me know how you get on…
Vegan caramel slice
If you're like me, and can never resist a caramel slice, this next recipe is perfect for you. Delicious, moreish and lower in calories than a non-vegan equivalent, it's a win-win on the vegan baking front.
This recipe is a bit more fiddly, requiring more ingredients, steps and some equipment like a food processor. But it's well worth the effort when you get a squidgy, finger-licking good piece of heaven at the end!
Find out how, here…
Vegan Victoria Sponge
What could be more satisfying than serving up a deliciously light and tasty Victoria sponge that everyone can enjoy regardless of their eating habits. This recipe from The Veg Space is delightful. It's simple, straightforward and doesn't require any weird ingredients. Kate even provides some tips to make it even more delicious, from baking it the night before needed to allow time to get really moist and getting as much air as possible into your 'butter' and sugar mix.
This really is a winner. Don't tell anyone it's vegan and I bet no-one will even notice.
Find the recipe here.
Vegan shortbread
One of my favourite sweet treats to sit down with, accompanied by a steaming hot cuppa, is a lovely shortbread biscuit. So, I love this vegan recipe for shortbread rounds (although I guess you could cut them into whatever shape you like) which is really easy.
Substituting olive oil for butter makes these little beauties totally vegan and they only take around 30-40 minutes to prep and bake. You'll be munching a biscuit and sipping your tea before you know it!
Find out how, here.
Vegan scones
I adore a good, old fashioned afternoon tea. And the centre of that treat? For me it's a really good scone.
Usually associated with lashings and lashings of dairy-tastic cream and jam, it is possible to make your favourite treat vegan with the use of dairy-free spreads, substituting the cream for coconut cream and using soya milk instead of cows' milk.
What would you put on yours?
Ingredients
180ml unsweetened soya milk, plus extra for brushing
1 lemon, zest and juiced (you need 2 tsp of lemon juice)
1 tsp vanilla extract
400g self-raising flour
1 tsp baking powder
100g dairy-free spread
40g caster sugar
400g tin coconut milk, chilled
1 tbsp icing sugar
Your favourite conserve, to serve
Method
Preheat the oven to gas 6, 200°C, fan 180°C. Gently heat the soya milk in a small pan, or the microwave, until just warm but not hot. Add 2 tsp lemon juice and the vanilla extract and put to one side for later.
Sieve the flour and baking powder together into a mixing bowl and add a pinch of salt. Rub the spread into the flour with your fingertips until it resembles fine breadcrumbs.
Make a well in the centre of the flour then add the sugar and the warmed milk mixture. Gently mix it all together with a knife, bringing the flour in from the edge of the bowl until just combined. Tip the dough out onto a floured work surface and form it into a ball with your hands, patting it into a 3-4cm-deep circle.
Cut out 8-10 scones using a 6cm round cutter. Transfer the scones to a baking tray, brush with a little soya milk and bake for 15-20 mins until golden.
While they're baking, take the chilled coconut milk out of the fridge and spoon the solid coconut cream from the top into a bowl. Discard the watery liquid that's left. Gently whisk the cream until it forms soft peaks, then add the sugar and lemon zest and whip again.
Cut the scones in half and serve with a dollop of the cream, a spoonful of your favourite fruit conserve, and enjoy.