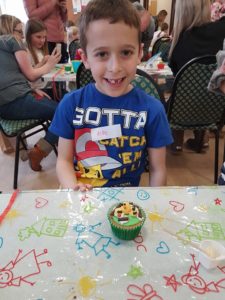 Boys love parties too!
Boys love parties, sessions and cake! You might be surprised, but so often up to half my workshops customers are boys! They love making things, getting crafty and using the fondant to make their cakes. It isn't just for girls.
The Great British Bake Off winner this year was a boy too! Boys love cake too! I think the trend is changing…..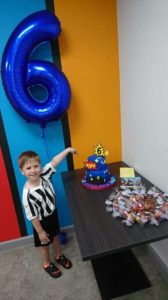 Decorating cupcakes might feel quite girly, but honestly, letting their imaginations run wild and getting hands creative with sweet sugary fondant that they can mould into their favourite Pokemon or Harry Potter character, a fierce dragon or colourful creation is super fun!
" My daughter wants to invite boys to her party"

If you son maybe doesn't fancy having a Mini Mixers party they might get invited to one. Nearly every Mum who books Mini Mixers asks me 'Do you cater for boys' and the answer has always been the same! ABSOLUTELY !! Different craft options could be available or a different bear to compliment your chosen theme. As with every party there are options! I'm a Mum of a boy and a girl so I completely understand.
Not only is it huge fun but it is really beneficial!! Crafting and cupcakes are for boys (and girls)
Develops fine Motor skills: Most arts and craft projects involve moving the hands and fingers.
Increases Dexterity.
Improves Hand-Eye Coordination
Boost Self Esteem
Encourages Self Expression
Helps in Socialising – they make new friends
Promotes innovation and creativity.
Enhances decision-making skills.
So come along! If you would like to find my up and coming workshops which are suitable for all pop over on my Facebook Page 
Or get in touch so I can tell you more about my party packages and the amazing themes we can do – suitable for all!