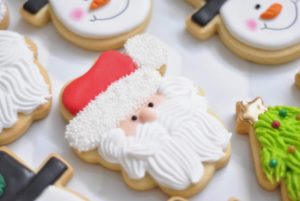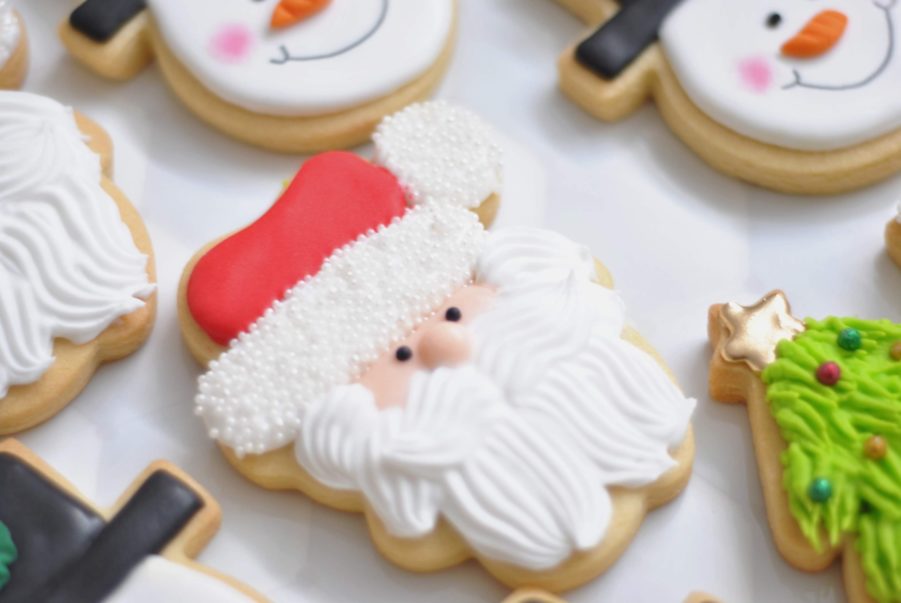 Christmas cake decorating ideas and this year's trends
I love Christmas. It's always busy, but it's always fun too. With young children, it's never a quiet and relaxing time, but I wouldn't have it any other way.
This month's blog is about all things Christmas – and yes, we're allowed to mention it now Halloween is over! So, let's talk about cake decorating trends, Christmas crafts, and Christmas Eve treats.
Cake decorating trends for Christmas
One of this year's biggest themes is gnomes (or gonks). I've seen loads of cake decorators turning out some amazing gnomes to grace the sides and tops of their Christmas bakes. And I'm a little bit in love!
If you're adventurous and love playing with sugar paste (like I do), there are tonnes of brilliant tutorials on YouTube to make little gonks or gnomes as a topper for your cakes. This is one I've watched and I'm itching to have a go myself!
But if you don't feel confident enough to try making your own gnomes, why not invest in some edible cupcake toppers like these ones that I found on eBay?
The other trend I've seen around this year is for Christmassy Dachshunds – as I'm a Mam to a Doxie myself I'm definitely going to be having a little play to see if I can make a little sausage on legs that looks like our Dexter… Have you made any doggy models with Christmas outfits on this year?
Crafting your way to Christmas
My kids are getting a bit older now and they're not quite as keen to join in the Christmas crafting as they used to be – but that won't stop me trying!
If you're anything like me, you'll proudly display the kids' Christmas crafts (even if they're unrecognisable!) for the next few years until they literally fall apart. Anyone?
So, I've been looking around for some really simple crafting ideas to get the kids involved with this festive season. And I love this blog which has loads of ideas – whip out the safety scissors, ladle on the glue and get generous with your glitter. The more the merrier, I say!
Welcoming back the Elf on the Shelf
Have you committed to an elf on the shelf? We have them in our house and, honestly, it's exhausting thinking up new scenarios to keep the kids entertained. But secretly I love it – especially when they get into my baking cupboard and cause havoc!
Anyway, love it or hate it, it's always a good idea to get off to a tasty start to the elf season. And I love this colourful and tasty recipe to welcome him or her back with style. Whip up a batch of these delicious, vegan pinwheel biscuits and everyone will be delighted!
Ingredients
200g dairy-free margarine
100g caster sugar
2 tbsp vanilla bean paste
300g plain flour, plus extra for dusting
red and green food colouring gels (check they're vegan)
Method
Beat the margarine, sugar and vanilla using an electric whisk until pale and smooth, then mix in the flour until fully incorporated and you have a smooth dough. Bring together with your hands, then divide into three equal pieces (about 200g each). Wrap one piece and set aside, then colour the second piece red by mixing in a drop of food colouring gel, then make the third piece green. Separately wrap, then chill all the doughs for 30 mins.
Next, roll out the plain dough between two sheets of baking parchment until it's around 30 x 20cm, then repeat with the red and green doughs.
Layer the red, plain and green dough over each other, taking off the parchment as you go – all except the very bottom piece. You'll be left with a small stack of dough. Place a clean sheet of parchment over the top and lightly roll them to make sure they stick together.
Take off the top parchment sheet and use the sheet underneath to help roll the dough from the longest side to make a log. Wrap tightly and chill overnight in the fridge, or for 1 hour in the freezer.
When you're ready to bake them, heat the oven to 160C/140C fan/gas 3 and line two baking trays with baking parchment. Slice the chilled dough into 2cm rounds. Place on the prepared baking trays, with plenty of space between each, and bake for 12-14 mins. Leave to cool completely on wire racks before serving.
These should keep in an airtight container for up to three days.
Christmas Eve treat bags
Finally for this month, I've got a very limited number of spaces left on my list for Christmas Eve treat bags. This year's treats include:
🎅 A Christmas story (story will vary)
☃️ Hot chocolate cone
🎄 Christmas Traybake
❄️ Christmas craft (craft will vary)
🤶 Sweet cone
🌈 Wildlife friendly reindeer food
All comes bagged £12 each to collect 23rd December – if you'd like to book in, drop me a message via email or social media and I'll let you know the next steps.
That's it for now. Have a fabulous November and I'll be back next month for more Mini Mixers fun.
Charlotte