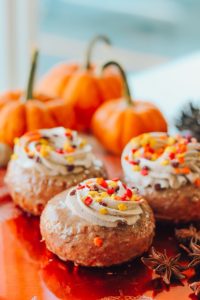 Five of the best comforting autumn recipes
As the weather turns chilly and the leaves begin to fall, it's definitely starting to feel a lot more like autumn out there. It's at this time of the year that I dig out the cosy jumpers, programme the heating to crank up and turn my mind to cosy, comforting baking to keep us all warm and content.
This month's blog is all about autumnal baking – and it features some of my favourite recipe ideas. Whether you're looking for a Sunday dessert or a mid-week baking delight, there's something for everyone.
So, sling your coat over the radiator, leave your wellies to dry and flick the heating on. It's time to snuggle down and get cosy while delicious autumnal aromas fill the air…
Sticky toffee pudding
Always a winner in our house, a good sticky toffee pudding is one of the best Sunday dinner desserts there is. A deliciously soft, moist sponge absolutely smothered in a rich, achingly sweet toffee sauce. Here's my go-to recipe for whipping up the stickiest of toffee puddings around.
For the pudding itself:
200g dates, stones removed and roughly chopped
100g unsalted butter, softened, plus extra for greasing
150g dark muscovado sugar
2 large eggs
100ml semi-skimmed milk
½ tsp vanilla extract
175g self-raising flour
1 tsp bicarbonate of soda
½ tsp mixed spice
1 tsp baking powder
For the sauce:
100g unsalted butter
50g light muscovado sugar
50g dark muscovado sugar
200ml double cream
Method
Pop your dates in a small bowl and pour over 175ml of boiling water. Soak them for 15-20 minutes then mash with a fork.

Preheat your oven to 180°C and grease a large dish. You'll need one with a capacity of around 2 litres.

Next, beat the softened butter with the sugar until it's fluffy. Mix the eggs with the milk and vanilla and gradually add it to the butter mixture. Beat well in between each addition. Fold in the flour, bicarb, mixed spice and baking powder then add the mashed dates. Stir it all through thoroughly.

Put it all in the dish and bake for 40-45 minutes until it's risen and a skewer comes out clean from the centre.

Leave preparation of the sauce until you're almost ready to serve. Place the butter and sugars in a small saucepan over a low heat until melted, then turn up the heat and cook for 2 minutes. Add the double cream and cook for a further minute, until slightly thickened, then serve with the pudding.
Golden syrup and jam roly poly
Hold the phone – you had me at golden syrup!

But seriously, this deliciously moreish recipe is a must for anyone with a sweet tooth. But it's not quite what you might have pictured. These beauties are individual rolls and are perfect for serving with afternoon tea.

Check out the recipe here.
Pumpkin muffins
Light, fluffy and incredibly tasty, these little treats are simple and quick to make and provide the perfect opportunity for a mid-morning snack or a sweet treat around the cauldron or the bonfire.

Here's the recipe.
Ginger and treacle spiced traybake
Here's one from the Queen of baking – Mary Berry.

I love using Mary's recipes because they're always delicious and easy to follow. But this spiced traybake just tastes like autumn to me. It's delightful and moreish. And as an added bonus, it can be frozen before adding the icing, so you can make this sumptuous bake in advance and whip it out of the freezer when you need it.
Check out the ingredients and the method here.
Orange bread and butter pudding
In a subtle twist from the original recipe, this deliciously zesty dessert is another autumn comfort favourite in the Mini Mixers household.

Whether you fancy an alcoholic twist or the family-friendly alternative, this recipe will have everyone asking for seconds this autumn.

Here's the how-to…

What are your favourite autumn recipes? Let me know in the comments – I'd love to expand our baking repertoire.