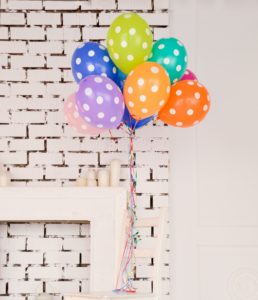 How to celebrate a lockdown birthday
Honestly, I get it.
Lockdown birthdays are a little bit pants. We're coming round now to a whole year and I know a couple of people who will have faced not just one, but two of those puppies.
But just because we can't have the parties or the family gatherings we're used to, doesn't mean we shouldn't try to celebrate somehow…
Here are just some of the ways you could make your loved ones' lockdown birthdays special.
Make your own birthday decorations
This is a great activity for the kids if you have them. If not, it's a lovely, mindful way to spend a dreary afternoon. There are tonnes of great birthday decoration tutorials online, like this YouTube video I found last week.
Whip out the craft box, set up a little workstation and have fun creating some homemade banners, wreaths and paper chains.
Plan to party with the family – virtually
If you're lucky enough to have the right technology at your fingertips, why not plan a family video party with quizzes, prizes and party games? Send out invitations and don't forget to include a dress code of party hats and dancing trousers!
Decorate your party room with your home-made decorations, set up a sound system to blast the party music and dance until your feet fall off!
Whip up a delicious party buffet to 'share'
If you're feeling adventurous and have enough time, why not whip up a delicious birthday buffet and, if you have friends and family locally, deliver a party food parcel to each participant ahead of time? That way, you can all dance together, play games together and eat the same food together – almost like you're in the same room.
If that's not possible, set out a menu that everyone can prepare so you've got the same food, even if it wasn't all prepared at the same time.
Plan your birthday baking
We all have different tastes when it comes to birthday cakes and sweet treats. But with so many tantalising alternatives, there's nothing to stop you creating your favourite bake for this special occasion.
Whether you're hoping for a decadent drip cake or a batch of scrummy cupcakes, all birthday bakes can be scaled down to suit your occasion. Either that or bake a huge sized one and share it out with friends and family – they'll love you for it!
Here at Mini Mixers, we love a mini drip cake (three or four moreish layers of light, delicious sponge sandwiched with a choice of ganache or buttercream, smothered with buttercream around the outside and covered in lashings of our favourite sweets, chocolates and decadent drips). But if something smaller and less 'showstopper' is what you're after then try some simple cupcakes or a beautiful traybake.
The possibilities are endless so we've narrowed the choices down to some of our favourite, simple recipes to whip up at home:
Treat the family to a fun activity
Why not treat the family to a takeaway cupcake decorating kit from Mini Mixers?
Perfect to while away the afternoon, my kits are designed for kids and adults and include 12 cupcakes, buttercream, piping bags and a nozzle, coloured fondant, a rolling pin, mini cutters and some suitably festive sprinkles.
Have fun, get creative and eat the end result too – it's a win-win!
Get in touch to order yours.
Support your local businesses
Our final suggestion for a lockdown birthday is to support the local businesses you have around you.
Obviously, we'd LOVE to create you something stunning and delicious to help your lockdown birthday go with a slight sugar rush (contact us as soon as you can, we book up quickly!) but we aren't the only business in the local area that can help with making your day special.
Here are some of the other amazing businesses who can supply you with decorations, ideas and general loveliness for your celebrations.
Above all, celebrate with those you love in whatever way you're allowed. This will pass, eventually, and we can return to our usual celebrations.