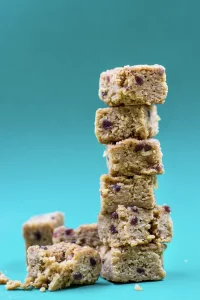 Lunch and after-school snacks to keep the energy up
The first few weeks of any school year are always an adjustment. Not just for us parents who've had to juggle life to entertain our kids over the summer, but for the children themselves. Tiredness reigns and the span between home time and dinner time can sometimes feel insurmountable.
That's why I've been researching some delicious and nutritious after school snacks (which could also be slipped into a packed lunch) that will keep the tantrums at bay, turn their frowns upside down and have them bossing the afterschool no-man's land before dinner.
Cheesy scones
Everyone loves a scone, right? And whether you have a sweet or savoury tooth, a cheese scone is generally a winner. Fresh from the oven and smothered with lashings of delicious butter, there's not much better than a simple cheese scone.
Check out this recipe from the BBC Good Food website…
Whip up a smoothie
When they're hungry and thirsty, a smoothie could be just what the little monkeys need to keep them going until dinner time.
Try out this healthy and delicious banana, oat and peanut butter smoothie recipe from Daisies & Pie.
Baked tortilla chips
With so many shop-bought 'crisps' containing too much salt and fat, these healthy baked tortilla chips are a fast and delicious way to allow the kids some crunchy goodness after school.
Here's the recipe and instructions from Cook for Your Life.
Oatmeal peanut butter energy bites
Replenishing their store of energy is often a tricky task when your children have been at school all day. These tasty and packed-full-of-goodness bites might look tiny but they're little bundles of energy just waiting to be unleashed.
I love this recipe from Tastes Much Better From Scratch – check it out…
Rainbow fruit kebabs
For an extra injection of fun and colour into your after-school snacks, why not get the kids involved in making some gorgeous rainbow fruit kebabs.
All you'll need is loads of colourful fruit, some kebab sticks and a great big plate to place them on when they're done.
Think of all the colours of the rainbow and get threading…
🟣 – Black grapes work well for purple
🔵 – blueberries are the perfect choice for blue
🟢 – green grapes or gooseberries for green
🟡 – melon or pineapple make a great yellow
🟠 – what else other than oranges?
🔴 – strawberries top off the rainbow 🌈
Healthier flapjacks
When it's comfort as well as healthy deliciousness you're after, why not try a healthy version of the traditional flapjack to keep grumbly tummies at bay?
This recipe is a favourite with my family and can be made and stored in an air-tight container to last up to three days…
Ingredients
oil, for greasing
100g/3½oz cubed butter
100g/3½oz golden syrup
50g/1¾oz mixed seeds, (pumpkin, sunflower, linseed and sesame)
50g/1¾oz dried cranberries
50g/1¾oz raisins
50g/1¾oz dried apricots, chopped up small
250g/9oz jumbo porridge oats
1 large free-range egg, beaten
Method
Preheat your oven to 200°C/180°C Fan/Gas mark 6. Lightly oil a shallow 20cm/8in loose-based square cake tin and line the base and sides of the tin with baking parchment.
Melt the butter and syrup together in a large saucepan over a gentle heat, stirring regularly with a wooden spoon. Take off the heat and stir in the seeds, cranberries, raisins and apricots and oats. Stir in the egg.
Press the mixture into the tin until it's nice and flat. This bit's important to make sure the flapjacks stay firm enough to cut.
Bake for 18-20 minutes or until golden and lightly browned around the edges.
TOP TIP – while the flapjack is still warm from the oven, score lines into the bake where you'd like to cut it (into around 12 pieces) then leave it to cool. Once it's cool, it's easier to cut into pieces using the scored lines.
Serve and enjoy.