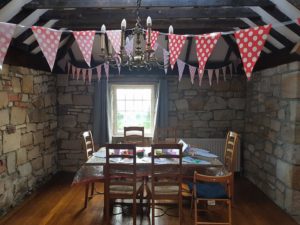 Planning a party in Durham has never been easier – honestly!
Planning a party is often a daunting challenge but honestly, it really doesn't have to be scary. Follow these great top tips for a stress-free, fun-filled party!
Discuss what type of party your little one would like
Outdoor fun – Farm visit as a family we love Hall Hill Farm
Picnic in the park or trip to the coast
Indoor fun – Soft play, laser tag or museum trip
Active fun – Bounce park, climbing, disco or football
Party at home – Crafts, slime making or party games (of course I have amazing options take a look here)
Invitations
About three weeks before the party, you need to think about invites. This could be bought from or shop, a text to parents or if you are having a Mini Mixers party you can download them here!
Whose party it is.
Time, location and finish time if children are staying without parents.
Extra details such as outdoor clothes for the farm or allergies for a Mini Mixers party as there are cupcakes to decorate!
Make sure that your invited guests know to RSVP – you need to know they are coming. Its useful to leave your phone number or email address for parents can quickly reply to say they can make it. Perfect if you don't know mum or dad too!
Book your venue!
Make sure if you haven't got room at home or your aren't having your party at a special venue you need to arrange hall or similar. Your local community has a wealth of amazing halls, community centres and church that are available hire. Expect to pay anywhere from £10-50 for a hall. Remember to ensure you book it for long enough! Your party might be 2 hrs long, but your entertainer (like me) needs to set up – its takes me at least 45 mins to be ready for the children. You then will be having party food which you will need approx 30 mins for plus tidy up time.
These are lots of local suppliers for all of this – why not check out http://fantasiacostumes.co.uk/
Book your cake!
Of course i love to make your childs cake so contact me to arrange this, if you have booked a Mini Mixers party you go get 10% off. If im not making yours, we love Costco cakes too, or pop into your locak supermarkets to see what they have available last minute.
Party Food
There are some many lovely options for yummy food, but my top tip would be keep it simple! Children need a bite to eat but you don't have to go to a huge expense. Why not fill a cardboard lunch box? or even better, put out a pick and mix table and give the children a small bag and let them choose 5 items from colourful bowls
Ham or cheese roll
Crisps
Box of raisins
Cheese portion
Chocolate treat
Yogurt tube
Apple or satsuma
Bottle of water / juice
Tea and Coffee are always gratefully received by parents staying at the party, push the boat out with a biscuit or even a matching cupcake – you will be the talk of the school gates. I have even seen a parent have Sky Sports on in the lounge for the Dads….!
Party Favours/Bags
The ideas for this are endless but personally, I like to keep it simple, how many times do most of the things are children excitedly receive end up in the bin days later?
How about
a small note book and pencil set for school
a tube of smarties with a little hand written tag on from the birthday child
an individually boxed cupcake
a balloon either a punch ball balloon or helium filled
bubbles with a hand drawn picture saying thank you from the birthday child
Remember to ask your little one to say thank you to the children for coming.
Useful things to remember to pack
Bin bags
Candles
Matches (we always forget these!)
Blue tac
Wipes
Kitchen roll
Hopefully by following my top tips you will have a very stress free, fun filled party. Remember if it all gets too much, give me a shout. My bespoke parties can include as much or as little of the above as you need.