Themes for Children's Cakes
I often receive requests to make cakes based around a theme for children. They're so much fun because they're colourful and a bit different. So this month I thought I'd take a look at some of the cakes I've been asked to make for children.
The most popular themes for book cakes
There's a vast array of themes that children love, but here are the top five I've been asked to make as cakes for a special birthday or celebration:
Harry Potter
Peter Rabbit
Frozen
Roblox
Fortnite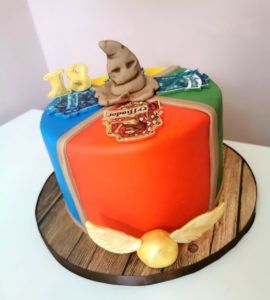 Harry Potter cakes
This is always such a popular theme, even so many years after the books were published – I think they'll keep us all entertained for many years to come!
When it comes to Harry Potter cake, I'm normally asked for the iconic snitch, wand, glasses and sorting hat to decorate the cake. I've found loads of really simple tutorials about how to make these parts but this one is probably one of the easiest. Although I would just use a cocktail stick for the wings of the snitch rather than worrying about shaping them around a bent wire.
Peter Rabbit cakes
Peter Rabbit cakes are perfect for young birthdays or christening cakes and I love making and decorating these cakes. Once again, there are loads of different ways of making a little Peter for the top of a cake but I love Zoe's Fancy Cakes' tutorials – here's the Peter Rabbit on. She makes it really easy to follow the tutorial.
Once you've got your little Peter, it is so much fun making little vegetables, flowers and garden fences to finish the cake off beautifully.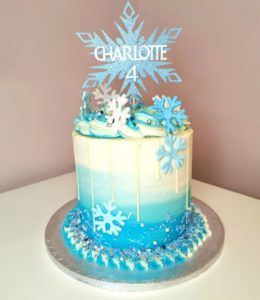 Frozen cakes
Will this obsession ever end? Frozen has been a firm favourite for a number of years now and I love a good Frozen-themed drip cake. The colours are unmistakable and it's so simple to make some glittery snowflakes in advance to make a buttercream cake look amazing.
Add a personalised non-edible topper and you've got an amazing cake for any celebration. For an extra special touch, non-edible figures of Elsa and Ana are available on the internet and are a great keepsake for the birthday girl or boy.
Roblox cakes
Do your children play Roblox? Mine do, and they love it. I hadn't heard of it until fairly recently but it's definitely one of the games of the moment for younger gamers. And with so many possible themes within one game, it can be tricky to narrow the decoration ideas down.
But if your little gamer has a specific Roblox game they love the most, that's always a good one to go for. And in general, the characters are quite blocky so they're fairly simple to make.
These ones look great it both drip and sugar paste covered cakes and can be made as complex or simple as you like.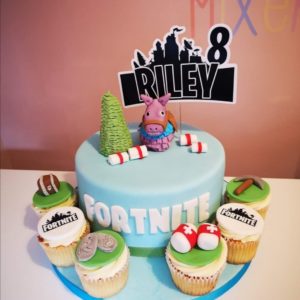 Fortnite cakes
I think this is probably one of the most popular boys' cake themes I get asked for. Aside from football. I love a good Fortnite cake because, just like the Roblox cakes, they can be really simple or super detailed, depending on my customer's cakes. Source a great non-edible topper, add some edible prints, some bullets and a hand grenade or two and you've got the perfect cake for a gamer.
And if you're feeling particularly adventurous, check out this tutorial on how to make a Fortnite Llama (if you know, you know) for your cake too.
What theme of cake would the children in your life ask for if there were no boundaries?