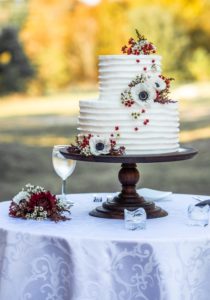 Wedding cake ideas and alternatives for smaller weddings
As life continues its slow return to 'normal' we've recently welcomed the news that wedding venues are opening their doors to larger numbers of guests – let the wedding parties commence!
But with months of uncertainty and our inability to plan big, elaborate parties, are bride and grooms' expectations of wedding cakes changing too?
In this month's blog, we look at some smaller, low-key alternatives to the five-tier, all-singing-all-dancing wedding cakes of the past and offer up some ideas of making your wedding cake memorable in different ways.
Alternative wedding cakes
Even before restrictions hit weddings so hard, many couples were opting for simpler, more rustic designs for their wedding cakes. Steering away from multiple tiers and sugar flowers, preferring buttercream cakes or drip designs to match their venue, flowers and chosen colour schemes.
Buttercream cakes, while simple and elegant, can also be breath taking and beautiful. Place a personalised topper on top, decorate them with your favourite sweet treats or aim for luxurious with gold leaf and fresh flowers.
Ideal for smaller weddings, tall buttercream cakes can be cut into enough fingers to provide everyone with a taste, but don't cost the earth like traditional tiered wedding cakes.
A cake just for cutting
Why not opt for a single tier 'showstopper' cake like this one then cut up and distribute pieces of traybakes to keep the cost down and the choices of flavours up? That way, your guests enjoy the spectacle of the traditional cake-cutting but you can keep the special cake for yourselves and provide a vast array of tasty morsels for your guests to enjoy. Provide enough and they can keep coming back for more!
Wedding cupcakes
Hardly a brand-new idea, but cupcakes make a fun, pretty and tasty alternative to a traditional wedding cake. Why not ask your wedding cake baker to provide several different flavours of cupcake to allow your guests a choice? This is another alternative to traybakes alongside your very own showstopper single tier cake.
Here are just a handful of potential cupcake flavours you could ask for:
Vanilla
Chocolate
Toffee
Biscoff
Raspberry and white chocolate
Lemon
Jammy dodger filled with strawberry jam
Birthday Cake
Chocolate orange
Double chocolate with chocolate ganache
Chocolate caramel
Cake as table centre pieces
Hear me out here. But I've had a vision recently of a wedding breakfast all laid out with mini drip cakes as centre pieces on each table – how amazing does that sound?
Drip cakes are pretty, elegant and delicious. And with a table name or number featured on the top of each cake, they're sure to be a talking point at your wedding. Ideal for smaller wedding breakfasts, each cake could be a different flavour or fit in with your table themes – the possibilities are endless!
Cake pops, cheesecakes and cakes of cheese!
While the options for wedding cakes really are never-ending, it's important to remember that your choices should reflect your style, your personality… you.
Looking for fun alternatives? Choose cake pops, waffles or quirky biscuits.
Need something stylish? Plump for cheesecakes or macarons.
If elegant and savoury is more your style, why not stack a 'cake' made entirely from different rounds of cheese and fruit – it's been done before but it's a great alternative for cheese lovers.
Did you have an alternative wedding cake? Share it with me today – I'd love to see. And if you're still searching around for designs, ideas or inspiration, drop me a line and I'll see if I can help.
Happy wedding planning!